Summer Reading Challenge 2021
Welcome to the KAEP Bookfest 2021
Open all summer long!   
Submissions due by 1st September 2021.
Take your pick of three reading challenges. Or perhaps you could do them all!
Find details of all the challenges below. Click on the + to reveal each challenge. The Postcard template is available to download at the bottom of this page. 
Challenge 1 - The Summer of Sound
Make your way to the 'Main Stage' and listen to some amazing free audio books. 
Take a look at our headliner audio books below! Something for everyone – take your pick and listen at leisure. If you have your own choice of audiobook, that is also fine. Remember, this is a good activity if you want to tick off one of your KAEP Character targets 😉
Here's the Challenge:
After listening to your audiobook, how about recording your own? Do you have the talent of a narrator? 
Pick your favourite book/magazine/manga and read a couple of pages, or even a chapter if you wish! Record it as a voicenote/memo on your phone and send it to Miss Taylor's email address (anisah.taylor@kgaeasthampstead.uk). Provide your name, tutor group, title of book and author. 
As you read, think about the way you read it …
Not too fast! But not….too….slow….
Think about the register of your voice
Look out for punctuation!!! And vary your tone to match
As well as thinking about pace and fluency
And speech – "yes, of course!"
Are you reading something that is serious, scary, funny, happy or sad? Does your tone of voice match?
How to Train your Dragon by Cressida Cowell
Cressida Cowell reads How to Train your Dragon. Other titles in the series are also available.
Link opens in YouTube. 
Challenge 2 - Silent Disco
Make your way to the 'Silent Disco' if you prefer to read a book yourself. Get some inspiration from the KAEP summer reading recommends.
Sssh, I'm Reading!
Do you prefer to read in your head? Then this is the challenge for you! 
Read a book – any type, any length! It could be horror, fantasy, romance, action, crime, manga or non-fiction, such as sport, biography, history, science…
Submit a postcard book review of your chosen book. Maybe you will read more than one?
Pick up this postcard from the library before the summer break, or use the template provided at the bottom of the page
If you are needing some inspiration, pick up a book at KAEP Library before the summer break.
Take a look at our KAEP Summer Reads Recommends below…
Key Stage 3 Recommended Summer Reading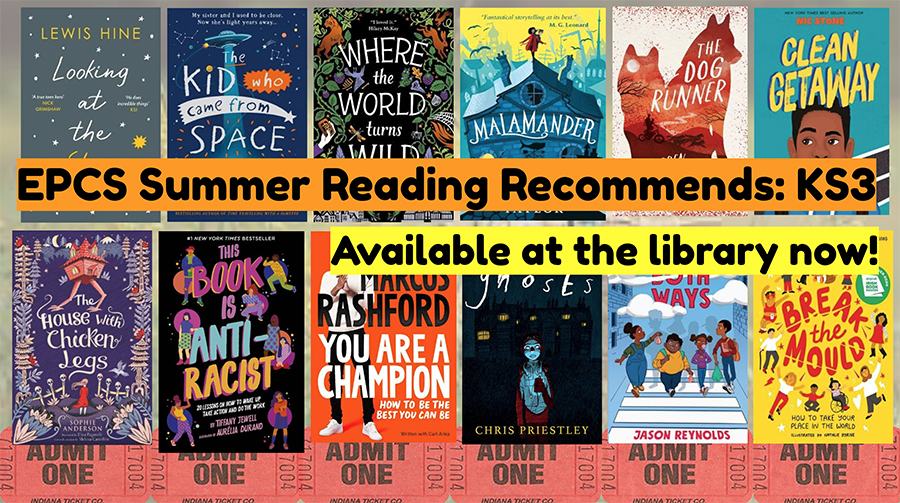 Key Stage 4 and YA Recommended Summer Reading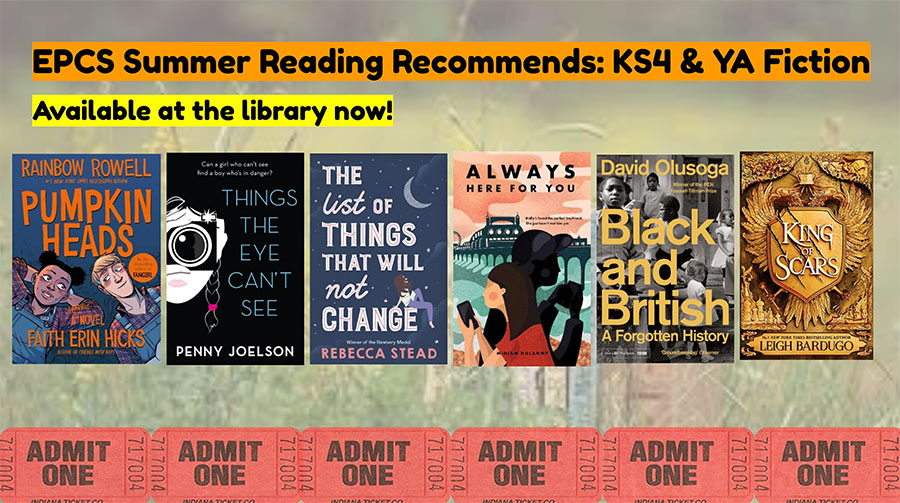 Challenge 3 - Creativity Tent
Make your way to the creativity tent if you like to put pen to paper!
Write a diary entry for your summer holidays.
There is one rule… your diary entry must include the theme of SOUND!
So for example, when you're describing a day at the beach, or a barbecue in your back garden, what do you hear? How would you describe it? Maybe you could use some onomatopoeia, such as sizzle, splash, buzz, tick tock…(but maybe not #SHEEESH)
This diary entry can be real or imaginary. Make it at least 250 words long, it can be longer if you wish. 
Submit entries to Miss Taylor at email anisah.taylor@kgaeasthampstead.uk
RECAP
Summer Reading Challenge 2021
Choose challenge 1, 2 or 3 (you can do more than one if you wish!)
If you are doing challenge 2 and you don't have a book to read over the summer, visit the library, pick up a book and a book review postcard. Postcards can also be filled out on the template provided.
Submit entries for all challenges to Miss Taylor by 1st September. In the email, include the challenge number you are doing, as well as your name and tutor group.
Written postcards can be submitted at the start of term. Just drop by the library to hand it in!
And the most important part….
🥁 🏆 Positive points will be awarded for ALL entries and if they are REALLY good, some prizes too….🤔